More information has come to light since I published "Fruit of the Sixties" in July 2009. A few stories were inaccurate or incomplete. Here are corrections, clarifications and updates:
Chapter 1
In the Kent State University shootings that shocked the nation in May 1970, two of the students were part of a war protest; two were simply on their way to class.
The New World Coffee House was owned by Vic Sabin. His name was misspelled on page 20.
I haven't been able to verify the report that Jimi Hendrix performed at the Eugene Armory. If he did, it had to be prior to his death in September 1970.
Alpha Farm's Alpha Bit Restaurant is located in Mapleton. The farm itself is closer to Deadwood.
Chapter 2
A 1969 newspaper ad unearthed from Wally Slocum's archives showed that the first fair held in November 1969 was actually named the "Renaissance Pleasure Faire and May Market."
Chapters 5 & 9
Lyndia Storey was known as Lyndia Wilt in the 1970s.
Chapter 10
Susie Hoyt helped her then-husband Jack Delay staff the first Information Booth at the fair.
Chapter 19
Charlie Tilden can be seen in the background of the photo on page 159. The recycling truck in the photo was named Fred.
Chapter 21
Eggsnatchur is the correct spelling for the food booth on page 178.
Cynthia Wooten denies she ever hit a biker with her purse, as Ray Sewell claimed, to stop them from riding in the Eight pathway. Instead, Cynthia expressed concerned about the safety of Fair folks on the path and strongly impressed upon the bikers the responsibilities of abiding by Fair rules.
Chapter 29
Silas Trim Bissell's name is misspelled on page 250.
The Growers Market history is incomplete and partially incorrect. Also, a few details were incorrect about Jackrabbit Press and Women's Press, which were separate entities. Vickie Nelson, one of the founders of Growers Market, clarifies those stories in her accounts written for the Lane County Historical Museum, reprinted below.
Chapter 33
The caption on page 277 misidentifies the man in the wheelbarrow. The person on the left is unknown. (He is being pushed by Marshall Landman at the fair site circa 1979.)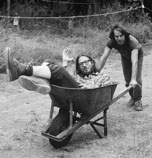 Chapters 34 & 35
The photos on pages 293 and 306 should be credited to Marian Goldman.
Chapters 37 & 41
The company that rented the land to the Fair in the 1970s was Western Aerial Contractors Corporation (not Western Aero Corp.).
Chapter 42
Christine Payne-Towler and Solala Towler were a couple.
Karen Stingle lived in a community, not a commune.
A horde of naked fans played in the mud in front of Main Stage.
The 1980 Community Village newsletter crew also included Karen Stingle and Richard Schmorleitz.
Fair Luminaries
Prindel Creek Farm (Daniel Dillon) is located closer to Alsea than Deadwood.
Toymaker Dominic DeFazio died in August 2009.
Glass artist Patti Lomont first participated in the Fair in 1975 and joined the Cedar Flat Reunion booth in 1977.
Musician Thaddeus Spae happily remarried in 2009.
Longtime fair volunteer Wally Slocum died in August 2009.
Growers Market
by Vickie Nelson
Growers Market began as a project of the Council of the Poor, a coalition of poor people and political activists. Council members wanted to start a grocery store on Eugene's west side where people could buy food at prices close to wholesale.
Paul Bestler and Steve Thomasberger, the council members in charge of the project, rented a warehouse at 301 Lincoln St. in the summer of 1971 and called a meeting at the warehouse that generated a lot of enthusiasm. The meeting drew many people who would become active in Growers Market, including Bill and Vickie Nelson, Mitch Temple, and Susan Detroy.
It quickly became obvious that a grocery store was not feasible and planning began for a food co-op along the lines of the food conspiracies operating in Berkeley, California, and other places around the country.
The fledgling co-op, a group of about twenty households, made its first run on December 9, 1971. Organizers took orders on a dozen fruits and vegetables and sent people out to buy food. Back at the warehouse, members divided the food up and priced it ten percent above wholesale. Growers Market operated every Thursday after that, and by summer of 1972 was handling about three hundred orders each week.
As the market grew, tensions over political differences with the Council of the Poor rose. Many market activists wanted to separate from the council.
On September 13, 1972, Growers people found themselves locked out of the warehouse. Council members had done some construction work for a "people's laundry" in the building without permits, and the city had cut off water and electricity and asked the landlord to evict. Market leaders began the hunt for a new home.
(After the eviction, organizers found a temporary space at Manna Milling, and also took some deliveries at the home Bill and Vickie shared with Susan and Mitch. One week they weighed out and packaged flour in the driveway, which is likely the origin of the incorrect story that the market started "in Bill and Vickie Nelson's garage.")
On October 1, 1972, the market put $1,000 earnest money down on a warehouse, the old McDonald Candy Company, at 454 Willamette Street. By the beginning of 1973, Growers Market had bought the building for a total cost of $30,000.
The people who made up Growers Market had always wanted the co-op to be more than a place to buy food. They saw it as force for building community. Renovations on the new building began with visions of turning it into a low-cost home for non-profits and other community organizations. Groups who made the Growers Market building their home early on included the Augur, Jackrabbit Press, Edcentric Magazine, Women's Press, Saturday Market, and the Hoedads.
Women's Press
by Vickie Nelson
Women's Press was a feminist newspaper put out bimonthly by a group of about ten women. A $40 donation by a disbanding UO women's group helped launch the publication. The first issue (December 1970) sold out its press run of one thousand copies. Early staff member and founder Margarita Donnelly remembers standing "on street corners hawking the papers in the snow." At first the group worked in kitchens and living rooms, then moved into the Augur's office in February 1971. Responsibilities rotated so everyone knew how to do all the jobs. The staff attempted to avoid rhetoric and to appeal to a broader spectrum of women than those who already identified with the women's movement. Women's Press published for 17 years, folding in 1987.
Jackrabbit Press
by Vickie Nelson
Sean O'Reilly was the driving force behind Jackrabbit Press, according to Kate Thompson, his partner at the time in both life and work. Sean owned a Harris printing press that had been at several Eugene locations (including Press House, Vision Works, and Starflower) before Sean moved it to the second floor of the Growers Market building at 454 Willamette in 1973, a move Kate recalls as "epic and unbelievably dangerous and probably highly illegal." Jane Gibbons joined Jackrabbit not long after the move to Growers and bought a Hamada press that became Jackrabbit's core equipment. Sometime in 1975, Katie and Jane ousted Sean, and Jackrabbit continued on as a women-run press for a few years. Jackrabbit Press printed a huge variety of progressive and radical literature, including WOW Hall and anti-war posters, Rainbow Family announcements, menus for Mama's Homefried Truckstop, natural food store business papers, Olga Broumas's poetry, Grand Jury Comix, What Lesbians Do — the list goes on.