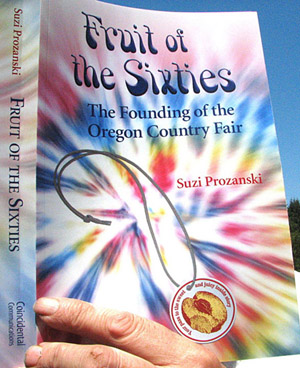 Fruit of the Sixties
documents the Oregon Country Fair's deep roots in the upheaval of the 1960s that generated waves of change throughout American society. This book takes the fair — an annual celebration of alternative culture staged near Eugene, Oregon — through its first decade. During those years, the fair evolved from a small 1969 fund-raiser for a children's school to a full-fledged, nonprofit arts and cultural festival.
The story also features legendary icons of the counterculture, including Oregon author Ken Kesey, the Grateful Dead band, and pioneers of the New Vaudeville movement. These intertwined short stories weave a larger tapestry showing the fair's substantial contribution to building a West Coast community that embraced an emerging, alternative culture.
More than just a gathering, the fair became an event that nurtured the values of change-agents who were experimenting with cooperative ways of living and learning. They may have turned on and tuned in, but most didn't drop out. Instead, many became activists who helped create community organizations as diverse as Saturday Market in Eugene, Urban Ore recycling in Berkeley, California, and Alligator Palace in La Conner, Washington.